Land in rural Cape starting to get noticed
New projects pop up in northeast
By JEFF CULL, jcull@news-press.com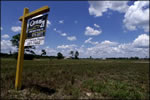 Another major residential development in Cape Coral — this one nearly 1,000 units on 370 acres in the city's northeast — will be gearing up to start construction if the city approves the developer's plans next month.
It's the second major housing project announced in the past week in Cape Coral. Bonita Bay officials said last week they would build about 1,300 residential units on 524 acres in the western Cape.
The northeast development, Sunset Lakes, will be a mix of single-family homes, condominiums and villas surrounding almost 72 acres of manmade lakes. But this project is outside the traditional "hot" areas of the Cape, the south and northwest.
"We were looking to where the growth is coming not to where it is," said John Kinsey, owner of Boca Raton-based NBD Development. "That area of the Cape is picking up quickly."
Kinsey's project, coupled with about 1,700 homes slatted for developer Will Stout's Entrada project, is making buyers and sellers take notice of the scarcely developed region that abuts North Fort Myers. Some reports have homesites purchased last year on freshwater canals for $8,000 selling for more than $40,000.
"Both off-water and freshwater property is taking off (in the northeast)," said Jeff Miloff, a broker with Miloff-Aubuchon Realty Group. "There's a lot of speculation because of Entrada."
And Stout's got plenty of interest in Entrada.
His company has a contract to sell 224 acres in the 730-acre project to Ryland Homes and is in negotiations to sell 225 acres to KB Home. Earlier this year, Stout sold about 175 acres to Engle Homes. All are national builders with solid reputations, Stout said. He wouldn't reveal the selling prices.
Stout said the northeast is becoming attractive because "other areas are already developed and builders and developers believe in our vision for the area," as a gateway to the Cape.
The northeast Cape has always been the forgotten outpost. It's a part of the city where homes pop up in random patterns like weeds peeking through cracks in the sidewalk. And it's more the norm than the exception to find unusual items, such as a car motor found this week, discarded in a street.
But now developers are eying that region for expansion.
Publix Supermarkets has purchased a site for a grocery store at the corner of Kismet Parkway and Del Prado Boulevard Extension, said real estate broker Greg Eagle. And a recent 300-unit condominium site, on Del Prado Boulevard Extension, sold for about $69,000 per acre. That's more than 72 percent higher than what the city contracted for when it agreed to purchase 171 acres for an academic village — at the northwest corner of Kismet Parkway and Del Prado Boulevard Extension — in February.
"Del Prado (Boulevard Extension) is getting some energy," said Dennis Fullencamp, a Cape real estate broker. "The strong residential coming in will help spur commercial growth."
The Sunset Lakes project — 980 residential units coupled with 37 acres for commercial development and 45 acres for light industrial — is in the final development order stage according to public records and is expected to be heard by the city's zoning and planning commission in mid-July. The city council gets the final say on the project usually within a month of the zoning hearing.
If the council approves the project, Kinsey said they hope to start building homes in about a year. "There's a lot of development work to do first," he said of the heavily wooded property.
He wouldn't reveal what the homes would sell for but did say they would be "competitively priced."